Welcome to our Cider Store
You are now able to purchase your favourite cider direct from Sheppy's Three Bridges Farm in Taunton.
If you would like to see how we make our award winning cider then join us for a tour by clicking here.
Kingston Black
12 x 500ml 6.5% ABV
Sheppy's Kingston Black Cider is produced from the increasingly rare old Somerset cider apple variety called Kingston Black, renowned for being one of the finest cider varieties in the world.
£29.55

Sheppy's Classic Draught Cider
12 x 500ml 5.5% ABV
Sheppy's famous Classic Draught Cider is produced in Somerset from apples grown at home on the farm at Three Bridges. A traditional blend of cider and dessert apple varieties produces this thirst-q...
£29.55

200 Special Edition
12 x 500m 5.0% ABV
In 2016 the Sheppy family celebrated 200 years and six generations of craft cider-making, and this special edition bicentennial blend was created to mark the occasion. With the use of home-grown tr...
£29.55

Dabinett
12 x 500ml 6.5% ABV
Sheppy's Dabinett Apple Cider (6.5% ABV), is produced from a widely grown high quality commercial Somerset cider apple variety called Dabinett.
£29.55

Original Cloudy Cider
12 x 500ml 4.5% ABV
Sheppy's Original Cloudy Cider is a light blend of David Sheppy's traditional Somerset cider and a touch of pure cloudy apple juice to produce a lightly sparkling medium sweet cider with a crisp an...
£29.55

Low Alcohol Cider
12 x 500ml 0.5%ABV
Sheppy's Low Alcohol Classic Cider has been crafted to have the same flavour profile of our traditional cider range but with less alcohol. It is made with a carefully selected blend of Somerset's f...
£27.25

Vintage Reserve Cider
12 x 500ml 7.4% ABV
Sheppy's Vintage Reserve Cider is produced from entirely home-grown apples. It is a blend of one year's harvest of the highest quality bittersweet apples such as Chisel Jersey, Yarlington Mill, Sto...
£29.55

Cider With Elderflower
12 x 500ml 4.0% ABV
This cider is one of our refreshing summer fruit ciders – a lighter alternative to classic cider. We like to call this our 'Cider with Elderflower' rather than 'Elderflower Cider' because we want t...
£35.99

Cider with Raspberry
12 x 500ml 4.0% ABV
We have captured summer in a bottle with our Cider with Raspberry. It's light and refreshing with not an artificial flavour in sight. Blended at home on the farm using a light, but traditional cide...
£35.99

Traditional Organic Cider
12 x 500ml 6.0& ABV
Sheppy's Organic Cider is produced at our farm in Somerset with apples grown in our own organic orchard. Managed under Soil Association standards, this small orchard contains some of Sheppy's olde...
£29.55

Mixed Case - Apple Cider
12 x 500ml Mixed Case - Apple
3 x 200 Special Edition (5% ABV) 3 x Original Cloudy (4.5% ABV) 3 x Traditional Vintage Reserve (7.4% ABV) 3 x Classic Draught Cider (5.5% ABV)
£29.99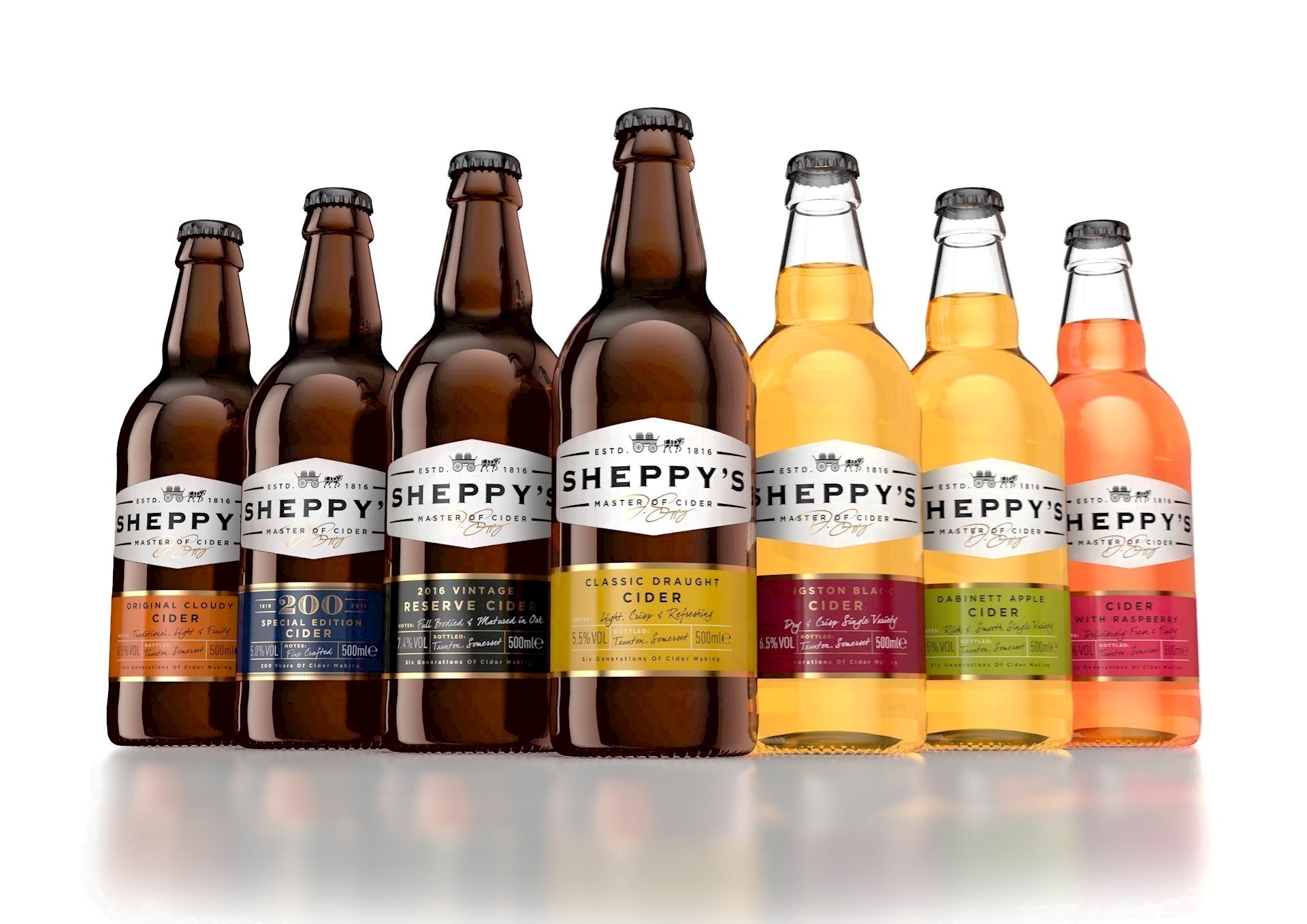 Mixed Case - Fruit Cider
12 x 500ml Mixed Fruit Cider
6 x Raspberry (4% ABV) 6 x Elderflower (4% ABV)
£35.99