We are now taking Christmas bookings in our Apple Bay Restaurant. 
Whether it's a work night out, a meal with friends and family or a romantic evening for two. We have a menu that is sure to please and guarantee a memorable evening.
Our Christmas menu available from 1st December - please contact Hayley at events@sheppyscider.com or call 01823 461 233.
Booking is ESSENTIAL for all group sizes!
A deposit will be taken from all groups at the time of booking.
We are CLOSED on Christmas Day, Boxing Day and New Years Day.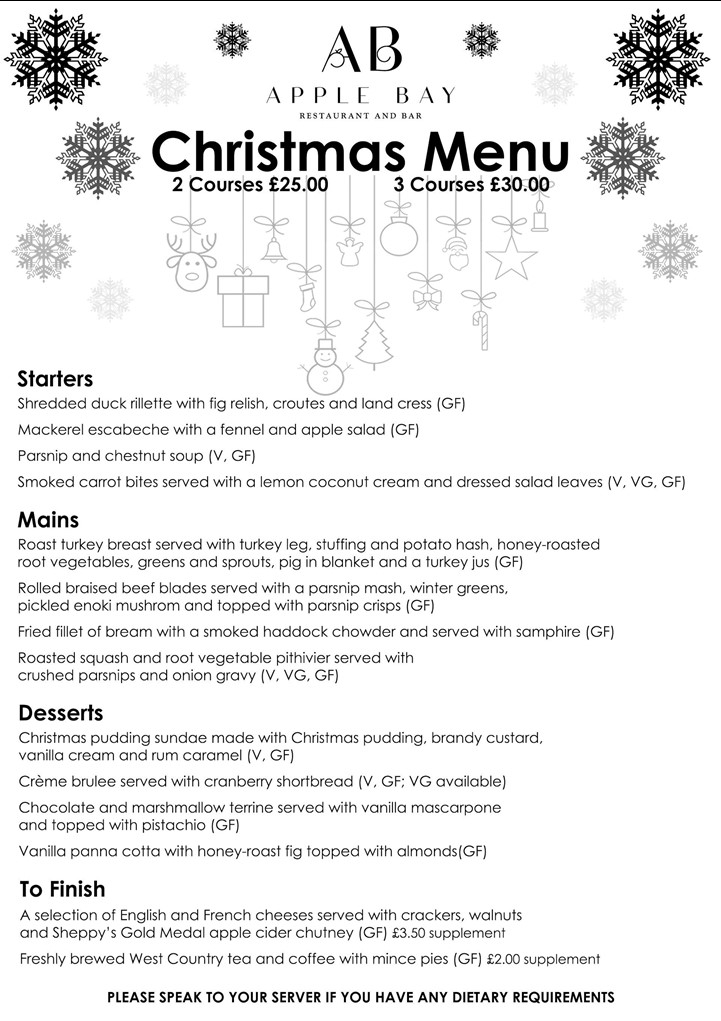 PLEASE SEE BELOW FOR DATE AVAILABILITY:
Unavailable for Lunch Bookings:
Friday, 13th December 2019
Unavailable for Evening Bookings:
Saturday, 7th December 2019
Friday, 13th December 2019
Friday, 20th December 2019
LIMITED AVAILABILITY:
Times listed are available for smaller evening groups only!
Friday, 6th December 2019 - 18:00pm and 18:30pm
Wednesday, 11th December 2019 - 18:00pm
Saturday, 14th December 2019 - 20:00pm
Saturday, 21st December 2019 - 18:00pm