Booking is essential for our special Easter Sunday Lunch.  We are asking for a deposit of £10.00 per adult when booking a table.  Our Head Chef David has created a two or three course menu to help you celebrate Easter with your family and friends.
Easter Sunday Breakfast served between 10.00am - 11.00am.
Easter Sunday Lunch served between 12.00pm - 3.00pm.
Celebrate Easter with us
Starters
Homemade Spring Leek and Wild Garlic Soup (GF available)
Served with garden herbs and crusty bread
Sheppy's Cider-poached Salmon, Prawns and Apple Salad (GF available)
Served with mixed baby salad leaves, lemon mayonnaise and brown bread and butter
Italian Herb Goat's Cheese (V)
Served with warm artichoke and asparagus salad, dressed in homemade pesto
Grilled Lamb Kofta
Served with tzatziki dip and garnish
Main Courses
Roast Topside of Beef
Served with Yorkshire pudding, garlic and thyme roasted potatoes, seasonal vegetables and red wine gravy
Sheppy's Roast Leg of Lamb (GF)
Served with garlic and thyme roasted potatoes, seasonal vegetables and red wine gravy
Grilled Fillet of Sea Bream (GF)
Served with minted new potatoes, seasonal vegetables and a cider, cream and watercress sauce
Mushroom, Leek and Spinach Bake (V)
A mix of wild and field mushrooms, topped with a pine nut crumb. Served in a tomato and basil sauce with seasonal vegetables and roasted pepper
Desserts
Chocolate and Mini Egg Cheesecake
Rich chocolate and mascarpone cheese on a biscuit base
Hot Cross Bun and Cider Pudding
Easter twist on our classic Sheppy's cider bread pudding
Classic Crème Caramel
Vanilla custard topped with caramel sauce, berries and shortbread biscuit
Lemon Posset
Served with mixed berry compôte
2 Courses £25.00
3 Courses £30.00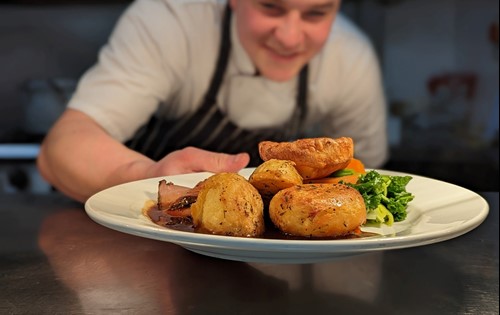 For the Easter holidays we will be running an egg trail hunt around our orchards, this will run from the 1st April.  Places can be purchased from the shop and are £1.00 per child. Each child will get the trail sheet, activity sheets, a Sheppy's pencil and a small chocolate treat at the end.
You can also enter our Easter competition to win a luxury hamper.  Add your trail till receipt into the box with your name, email address and telephone number.