Enjoy a creative morning creating a willow obelisk with local artist Stefan Jennings.
During the workshop you will create a garden support with willow sourced from here on Sheppy's Three Bridges Farm. You will have the opportunity to learn new skills and understand how different materials can be used to weave and create. The finished structure will make a lovely addition to your garden and home, supporting sweet peas or climbing plants or the perfect gift for a lucky friend! A truly sustainable addition to your garden. 
*Example Only*
Stefan Jennings created the Willow Cathedral in Longrun Meadow and will be your tutor for the class. Stefan is an incredible craftsman and very passionate about his work; we are privileged to welcome him for the event.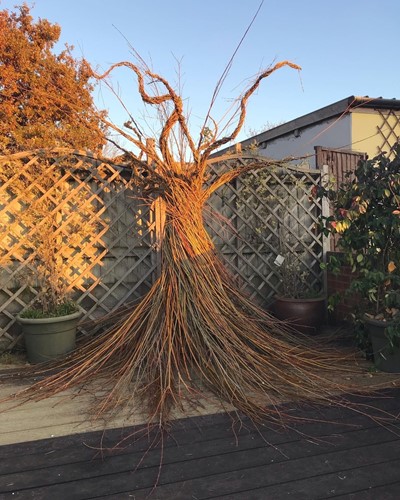 *Example only*
All guests will be greeted with a hot drink and will take home a unique willow obelisk. During the half day class you will also be given the opportunity to create further willow structures depending on time available.
Your £50 ticket includes all materials and the tutored class. Basic tea /coffee are provided free of charge during the course. Additional food and drinks can be purchased in the café/restaurant.
Workshop will run between 9:30am - 12:30pm on Wednesday 29th March.