Did you know that the 4th June is National Cheese Day – a day dedicated to our second favourite Somerset produce. Recently the Sheppy's team were asked to speak at a seminar hosted by the Academy of Cheese, the UK's leading institution dedicated to raising awareness and increasing knowledge of artisan cheese from around the world.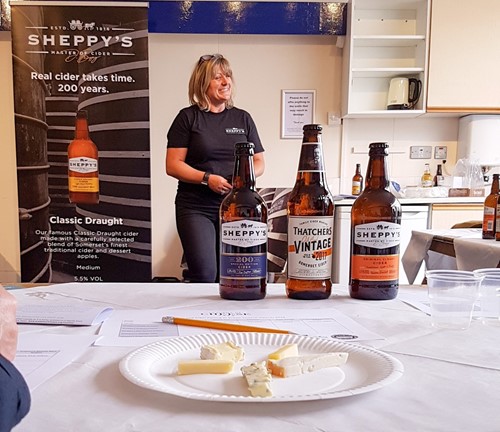 Here are a few of our recommended pairings...
White Lake Cheese's Katherine & Sheppy's 200 Special Edition Cider, 5%
Expert opinion: "The sweetness of the 200 Special Edition cider is really underlined when paired with the Katherine."
Caws Cenarth's Perl Wen & Sheppy's Classic Draught Cider, 5.5%
Expert opinion: "Perl Wen is quite a mellow, soft cheese but it works well alongside the rounded tannin of the Classic Draught."
Lynher Dairies' Kern & Sheppy's Kingston Black Cider, 6.5%
Expert opinion: "The Kingston Black is one of the most famous cider apples and it pairs delightfully with the Kern – the perfect balance of sweet nutty cheese and dry cider."
Cropwell Bishop Stilton & Sheppy's Original Cloudy Cider, 4.5%
Expert opinion: "Another good balance of 'opposites' with the sharpness of the blue offset by the mellow sweetness of the Cloudy."
Try these pairings for yourself and let us know what you think!