Our 'Cider of the Month' for October is our award wining Original Cloudy Cider, which seems fitting considering the weather! Read all about what makes this cider so delicious and where you can try it for yourself…
THE HEADLINES
Cider type: Medium-Sweet
Strength: Alc. 4.5% Vol.
Apples: A blend of Somerset apples including Michelin, Browns, Harry Master's Jersey and Dabinett to name but a few
About this cider: This cider was added to the Sheppy's Cider range in 2017 in response to the increasing demand for premium, traditional cloudy ciders. Since it's launch it has gone on to win multiple awards, including a 2018 Great Taste gold star!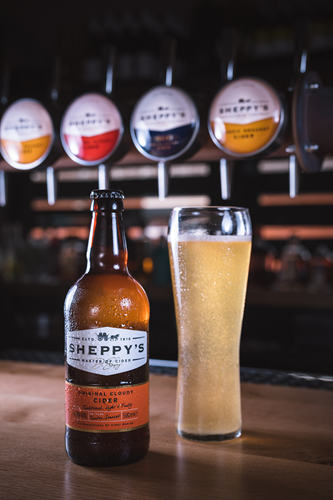 What makes this cider so special…
Our Original Cloudy cider is a light blend of traditional Somerset cider with a touch of apple juice added back in to the blend to give it a characteristically cloudy appearance.
A light carbonation plays a significant role in bringing out the bold mouthfeel of this cider – the finer bubbles allow the subtler flavours to come to the fore, giving it a complex and sparkling finish.
Wild yeast fermenting is an integral part of the Sheppy's Cider crafting process – we allow the naturally occurring yeasts to ferment our raw juice over a period of 1 to 2 months before blending takes place.
Blending the different flavour profiles of each apple variety is a skill that our Master of Cider – David Sheppy – has perfected. For this Original Cloudy variety, he has personally selected a blend of sweeter apple varieties to give it a deliciously natural sweetness which reduces the need to include too much added sugar.
And don't just take our word for it!
We're proud to say that this cider was  recognised by the Great Taste judging panel and awarded a coveted gold star in 2018. Out of 12,000+ entrants only 3,000 were given a gold star, which really does make it something to be proud of!
Where can I try this cider for myself?
You can also pick up our 500ml bottles of Original Cloudy ciders in over 80 Tesco stores in the South West, as well as in Booths in the north. We're also proud to stock this cider in plenty of our favourite independent retailers including the Bristol Cider Shop, Cambridge Wine Merchants, Jon Thorner's, and Mole Valley Farmers. And of course, you can always pick up this cider in the House of Cider farm shop or online at Eebria.
You can also enjoy a deliciously chilled pint of Original Cloudy in plenty of bars and restaurants – keep an eye on our Facebook to get regular updates of which bars and pubs have got our Original Cloudy on tap!
How can I get this cider for my shop/bar/pub/restaurant?
We work with a number of national distributors to supply this cider to a range of outlets up and down the country. Contact our sales team to find out more.